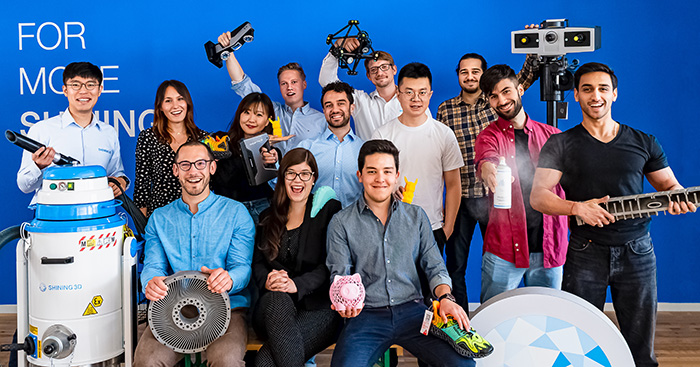 Stuttgart, August 01, 2020 – With its new location of over 1,000 square meters in Stuttgart, Germany the European subsidiary of SHINING 3D, a leading global provider of technologies for 3D digitization and additive manufacturing, is significantly expanding its presence in Europe. With its headquarters in Stuttgart, SHINING 3D Technology GmbH sells both high-quality 3D scan technology and a wide range of solutions for additive manufacturing, including industrial 3D printers for plastics and metals. Customers and partners can also benefit from an extensive service program.
SHINING 3D Technology GmbH was founded in 2017, and significantly expands the range of services at the new location in the industrial region of southern Germany. On more than 1,000 square meters there are two showrooms, a reference production, spare parts supply, modern training rooms and various business departments such as sales, technical support, finance and marketing. The extensive show area houses numerous 3D-printed reference parts and products made of plastic and metal, from designer jewelry to fuel nozzles for aircraft turbines, and shows the various fields of application of SHINING 3D's additive technologies. Additionally, a Porsche 911 body serves as a demonstrator for the capacities of the SHINING 3D scanning technology.
SHINING 3D Technology GmbH employs a total of 20 people in Stuttgart and a branch in Italy and supports the entire EMEA region (Europe, Middle East and Africa) with a very dynamic international team.
"Display the AM process chain close to the industry"
"In addition to the scanning products, the new location enables us to present the entire process chain of additive manufacturing in an industry-oriented manner and to develop suitable solutions for our customers and partners promptly and competently," said Sunny Wong, General Manager of SHINING 3D Technology GmbH. "In addition, due to the central location in the heart of southern Germany with numerous important companies and industries as well as the proximity to the airport and important motorways, we are close to our customers and partners."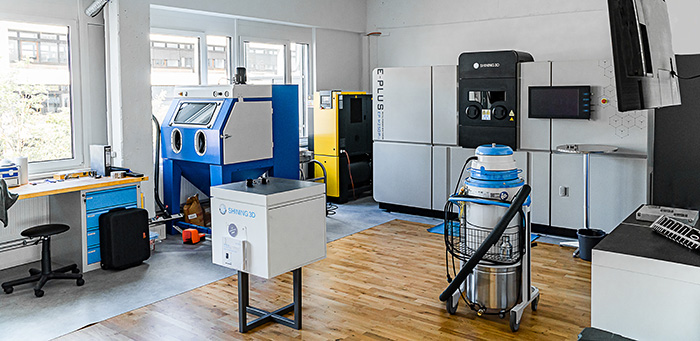 SHINING 3D offers the latest additive manufacturing solutions both in the metal sector with its powder bed fusion technology (PBF) and in the plastics sector with stereolithography (SLA), direct light processing (DLP) and selective laser sintering (SLS). "This enables us to provide technology-independent advice and, depending on the application and production environment, develop the solution that ultimately achieves the greatest customer benefit," says Enis Jost, Application Engineer Industrial AM EMEA at SHINING 3D Technology GmbH. In addition, customers also profit from the combination of offers from 3D digitization and additive manufacturing, achieving significant added value in orthopedics, dental technology, toolmaking and many other areas. Moreover, SHINING 3D also offers certified materials, but at the same time pursues an "open powder policy" enabling the use of customer-specific powders.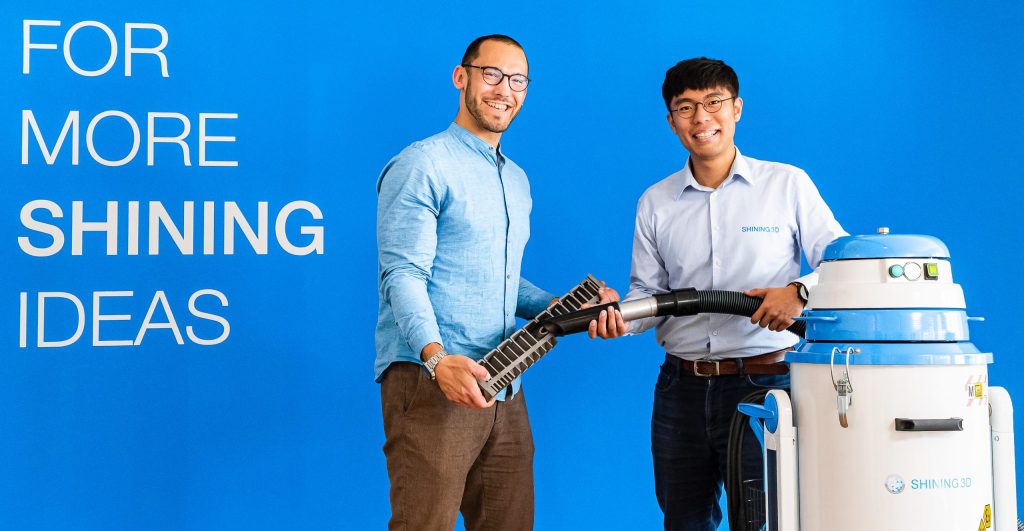 Spare Parts and extensive Services
At the new location in Stuttgart, SHINING 3D stores an extensive amount of spare parts and consumables, guaranteeing availability on site and within a short time for customers all over Europe.
The free consultation service and in-house production of reference parts paves the way for successful additive manufacturing. The training of employees on new additive machines at the customer's site is also coordinated from here.
About SHINING 3D
Since its foundation in 2004, SHINING 3D has been pioneering in independent research and development of technologies for 3D digitization and additive manufacturing; SHINING 3D holds over 300 patents and more than 100 copyrights in these areas. As one of the market leaders, SHINING 3D offers mass-produced 3D products, advanced digital 3D technologies and comprehensive service for its customers operating worldwide. SHINING 3D has set itself the goal of improving efficiency when working with 3D structures, enabling flexible production technologies for very powerful, complex structures and making 3D digitization and technologies of additive manufacturing accessible – from the global enterprise to Hobbyists at home.
With comprehensive, easy-to-use and accessible solutions from the areas of "3D digitization", "intelligent design" and "additive manufacturing", SHINING 3D covers all requirements for digital 3D infrastructures in industrial production, medicine and biotechnology, in the optimization of Products, in education and many more.