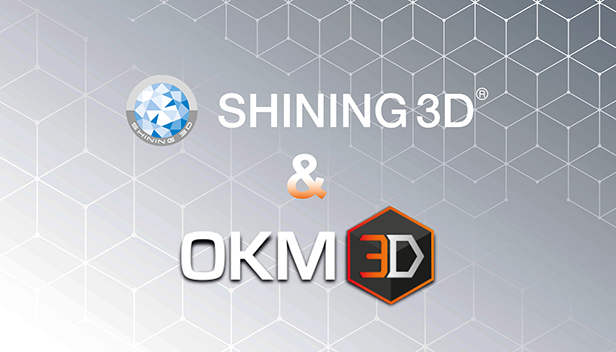 Stuttgart, Germany April 2021 – SHINING 3D, the whole solution provider from 3D scanning, through Intelligent Design to high-precision Inspection is honored to announce the partnership with OKM 3D. OKM 3D´s experience and dedication to 3D technology will grant a broader access to high-quality 3D scanning technologies in France, Benelux and the UK.
"SHINING 3D is happy to announce a new partnership with the distributor OKM3D in France, Benelux and the UK. OKM3D is one of the leading distributors of 3D printers in Europe and will help our resellers to grow thanks to their team of experts. We are delighted to be able to expand our sales network with such a skilled and reliable partner."
– Niels Stenzel, Regional Sales Manager EMEA, SHINING 3D
"We are very proud to announce that we are now distributing SHINING 3D in France, Benelux and the UK. SHINING 3D is a leader in the field of 3D scanners and if you would like to resell their fantastic products please feel free to contact us."
– Guillaume Painsecq, Business Development & Distribution, OKM 3D
OKM 3D offers a comprehensive Additive manufacturing portfolio with different 3D printing technologies for a variety of performances and prices. Thanks to this wide range of offers, they can meet almost any request and work together with all types of customers to build system meeting their needs best. On top of that, OKM 3D also offers a wide selection of different materials and accessories and present customer-specific solutions to meet all kinds of digital needs.
SHINING 3D, founded in 2004, is pioneering independent research and the development of 3D digitizing and additive manufacturing technologies. SHINING 3D is well-positioned in the market and has the capacity to manufacture 3D products at a large scale, offer powerful 3D digital technologies, and provide strong support service worldwide. SHINING 3D's mission is to improve the efficiency of high-quality 3D modeling, enable flexible production of high performance, complex structure parts, and make 3D digitizing and additive manufacturing technologies accessible to all; from large multi-national corporations worldwide to at-home hobbyist. Providing solutions covering "3D Digitizing – Intelligent Design –Additive Manufacturing" for industrial manufacturing, healthcare & life science, product customization and education, etc. SHINING 3D promotes the 3D digital solution at a large scale by offering end-to-end, easy-to-use and cost-effective products. SHINING 3D has demonstrated a strong international influence with customers in more than 70 countries in the Asia Pacific, North America, South America, Europe, Middle East and Africa.