Darkhangeomach LLC manufactures mining and heavy industry equipment. They also produce tools and spare parts of heavy machinery equipment. Because they are taking steps towards sustainable growth and efficient investment in the technical capacities of the company, they recently acquired the EinScan HX hybrid light 3D scanner.
Mining for precision and efficiency: EinScan HX paves the way
The EinScan HX is a flexible tool for a wide range of applications because it integrates two 3D scanning technologies in one device. Up to 1,200,000 points/s in rapid scan mode enable the EinScan HX to scan large objects efficiently. Laser scanning technology enables an amazing performance in scanning reflective and dark objects. Additionally, a minimum point distance of 0.05mm and up to 0.04 accuracy make EinScan HX suitable for reverse engineering and measuring. Therefore it is a powerful scanner for applications, such as automotive, shipbuilding, machining, mining and research.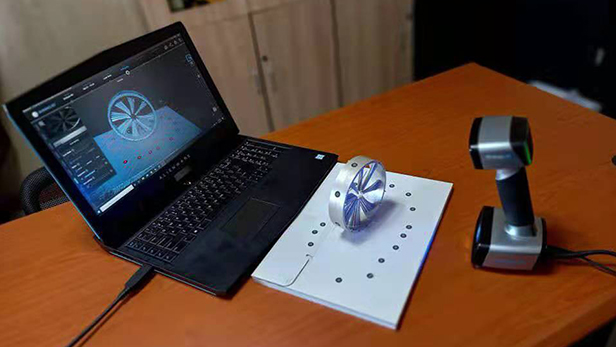 The team from Darkhangeomach LLC was looking for a device that could assist them in creating 3D models of complex surfaces for reverse engineering of their mining equipment. Therefore, they compared 3D scanners and CMM machines and found the EinScan HX an efficient, reliable and cost-efficient companion. Also, the EinScan HX was able to meet the rigid requirements of their industrial working procedures while being easy to handle. Due to the bundle with Solid Edge SHINING 3D Edition and Geomagic Essentials, Darkhangeomach can benefit from the full design and engineering capacities from one hand.
One-stop solution in the mining industry: EinScan HX – Geomagic Essentials – Solid Edge SHINING 3D Edition
1.3D scanning with the EinScan HX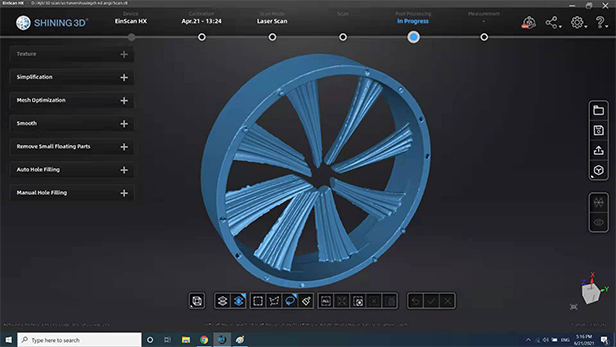 The impeller of the mining equipment has a shiny metal consistency and is thus hard to capture with structured light scanning technology. The laser module of the EinScan HX is ideal to acquire this type of object in 3D. After applying the reference points, one can directly get started with the data acquisition.
2.Data preparation in Geomagic Essentials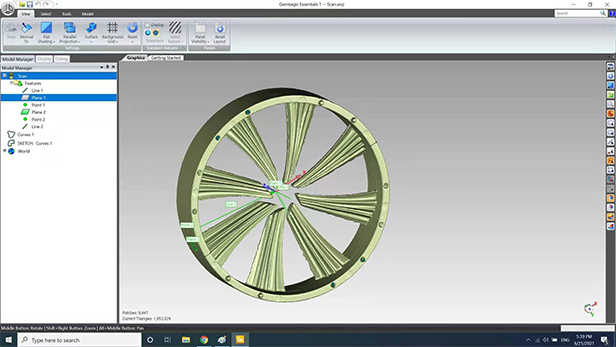 Geomagic Essentials is the ideal solution for scan-to print and downstream Reverse Engineering applications as it extracts all the necessary elements of a scanned part for immediate use in CAD software programs. Many currently available CAD software programs have limited capabilities in regards to processing scan data. Geomagic Essentials facilitates this process, making the scan data compatible with native CAD workflows. With the new bundle, the power of Geomagic scan-to-design solutions is now accessible to designers desiring to integrate 3D scan data and part design.
The following steps can be carried out easily when importing the scan data from EXScan software to Geomagic Essentials: deleting redundant data, repairing mesh, filling holes, aligning to the world. Furthermore, generating references like curves on the data surface, to facilitate reverse operations or auto surface, generating surfaces matching the object exactly as it is constructed.
3.Processing in Solid Edge SHINING 3D Edition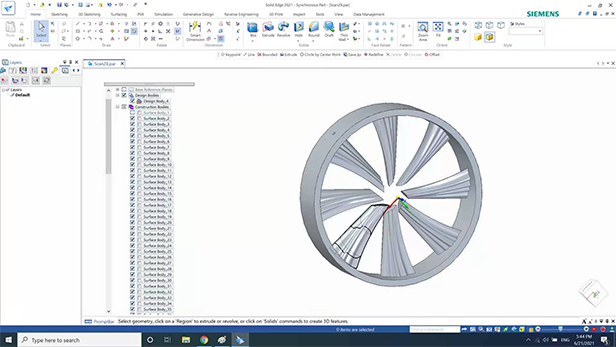 The final model for further processing can be prepared in Solid Edge SHINING 3D Edition by creating curves and surfaces, constructing the shapes and remaining parts.
"Our work on modeling complex parts got much simpler and accuracy of complex surface increased significantly."
Erdenee Batbayar, CEO Darkhangeomach LLC