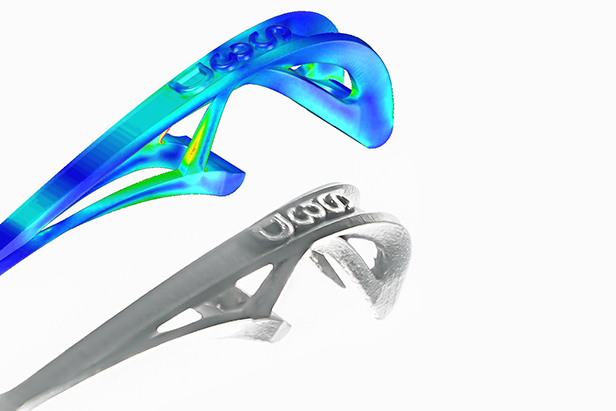 SHINING 3D´s innovative Additive Manufacturing Technologies are not only able to power your industrial and dental 3D-printing projects, but also have the capabilities to create objects of everyday life. This case study was created to show you how 3D-Printing, Intelligent Design and 3D-Digitizing Technologies powered by SHINING 3D are compiled in one unique workflow and creating something practical you can use and cherish on a daily basis wherever you go.
The SHINING 3D keyring bottle opener has been designed using the latest Design for Additive Manufacturing (DfAM)-Techniques with Solid Edge Shining 3D Edition. Thus it is possible to print the parts with only little support structure reducing time and cost for post processing. A small support structure underneath the bottle opener serves the smooth removal of the printed parts from the platform. In our case, a Titanium Alloy (Ti6Al4V Grade 23) was used, which is usually applied in industries like Aerospace & Defense, Automotive & Racing or Medical & Dental.
A topology optimization with previously researched load cases aiming to reconstruct the reality is carried out.
To prepare the data for printing, SHINING 3D is using VoxelDance Additive in order to repair and orient the parts, create their support and nest 79 parts onto the build platform. After slicing, the self-developed Hatching-Software EP-Hatch is used to create the path of the two lasers during production.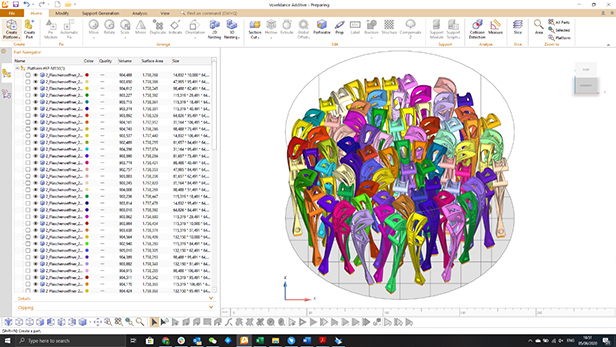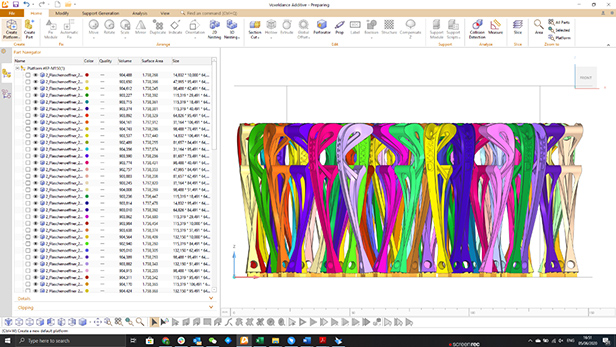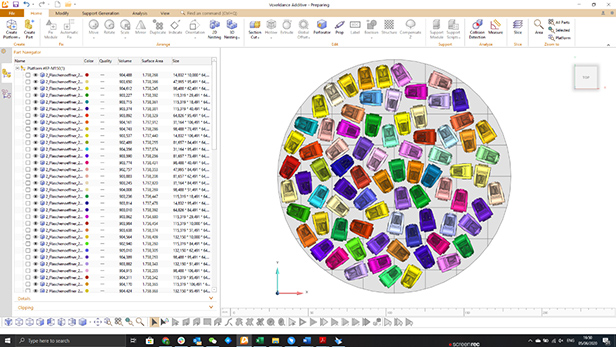 Processing it on our Metal Powder Bed Fusion (MPBF)-System EP-M150, this Material can reach:
Tensile Strenth up to 1250 MPa,
Yield Strength up to 1080 MPa at a
Hardness of 36 HRC and an
Elongnation of 12 % with a
Density of 4,3 g/cm³.
After printing, the parts are removed from the substrate plate by hand and blasted with Aluminumoxide in order to create a homogeneous matte finish on the parts.
Once the so called Post-Processing is finished, the parts can be inspected in order to close the process loop. For this, the latest metrology-grade 3D-Scanner, AutoScan Inspec, is being used. This Scanner is especially developed for small and detailed industrial components and is using two 5 MP cameras in order to create a very detailed digital image of the bottle opener.
The created 3D image is now being compared with the designed CAD-File and deviations are being calculated. Here, the software Geomagic Control X by 3D Systems is being used.
With this and other values, it's proven how exact the EP-M150 can print parts of Ti6Al4V.
By using the entire workflow from Intelligent Design, Additive Manufacturing and 3D Inspection the printing accuracy of the EP-M150 can be monitored carefully.

When using the process loop of intelligent design, additive manufacturing and part inspection via 3D digitizing technology, the development iterations of a product can be dramatically reduced. Especially the new AutoScan Inspec has added tremendous value to this workflow. The data derived from this case study will help us to develop further amazing 3D-Products for you! We are proud to stand out in the market as a full-solution provider and we look forward to your projects skyrocketing thanks to more shining ideas!
If you want to learn more about this project or the products and software used, please refer to your regional Application Engineers.
You would like to see a more practical approach to this project? Check out the dedicated webinar in YouTube!
Would you like to print your own Shining 3D bottle opener?
Download the STL-file here