As part of the digitization of the most demanding inspection processes, the relevance of digital metrology has experienced extraordinary growth. The use of high-precision industrial 3D scanners not only provides the advantage of authentic replication of an object in virtual space for pinpoint quality control, but also opens up new freedom compared to traditional measurement methods through enormous time savings and independence of location. The company ATD Automobil-Technik-Design GmbH from the Bavarian town of Ampermoching near Dachau has recognized the advantages of digital measurement technology and, in conjunction with state-of-the-art inspection software, digitalized the entire inspection process for automotive parts.
ATD GmbH was founded in 1985 and since then has been involved in engineering services, model technology and small series production. Originally coming from the field of pure model technology, ATD developed over the years into a recognized and valued supplier of model and mold making and is today an established provider in the field of tool and mold making for small series, special series and individual pieces. In order to be able to offer an ever increasing range of services and a maximum of quality to the renowned and demanding customers, the team is constantly expanding its internal know-how and implementing the latest hardware and software technologies in the daily workflow. Among the most important customers of ATD are the BMW Group with Rolls Royce, BMW Motorsport and AEG. In addition, Hutchinson and Junkerwerk – formerly PU-Foam, Daimler Benz AG and Mann+Hummel have been customers for many years.
Among others, ATD manufactures test cubings for its customers. These are highly accurate replicas of car body parts that are used for quality control.
"Since there is a need to measure elastic parts digitally, tactile measurement is not applicable due to the elasticity of the parts and the associated risk of deformation, which leads to falsified measurement results."
-Peter Michael Zieger, Managing Director, ATD GmbH

An optimal solution for flexible, efficient and highly accurate measurement of inspection cubings is offered by a wireless optical coordinate measuring system (CMM) in combination with a dedicated 3D inspection software.
Scanning complex geometries and measuring large volumes
FreeScan Trak
The FreeScan Trak wireless CMM system is capable of recording the spatial position of the scan structure in real time, making it a portable, efficient and reliable 3D measurement solution. The system eliminates the need for time-consuming application of reference points, simplifying the acquisition of 3D data from medium to large objects with high measurement accuracy. The optical tracker is suitable for a wide range of dynamic and static applications, such as large-scale 3D inspection in aerospace, automotive, shipbuilding and the energy sector.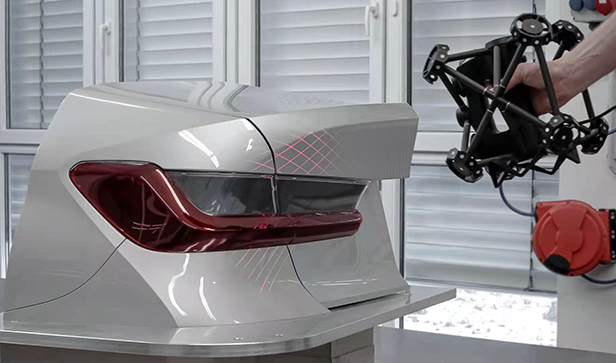 "The advantage of the hardware from SHINING 3D is that we can set up and also use the measuring unit wirelessly and without being tied to a specific location. We only have to calibrate it and can then immediately get started with the scanning. The big advantage is that the accuracy of the measurement data is adjustable and very high."
-Peter Michael Zieger, Managing Director, ATD GmbH
Dynamic referencing
Reference points can be used and form a reference structure when applied. Both the tracker and the object being scanned can be moved freely during the measurement and scanning process, enabling scanning in challenging work environments.
High measurement accuracy
Accuracy up to 0.03mm and resolution up to 0.05mm without precision variations.
Wireless technology
No physical cables needed between tracker and scanner. The system can be configured through wi-fi.
User friendliness
An integrated processor facilitates setup. The measurement rate of the FreeTrak can be up to 70Hz.
The 3D scanner
Independent working mode
The light source is built into the scanner, allowing it to be used independently of the tracker.
Wireless solution with AIRMASTER
Wireless data transmission with Airmaster
Light weight
Compact size and light weight of the scanner provide maximum flexibility.
Portable CMM inspection system For real-time contact 3D inspection .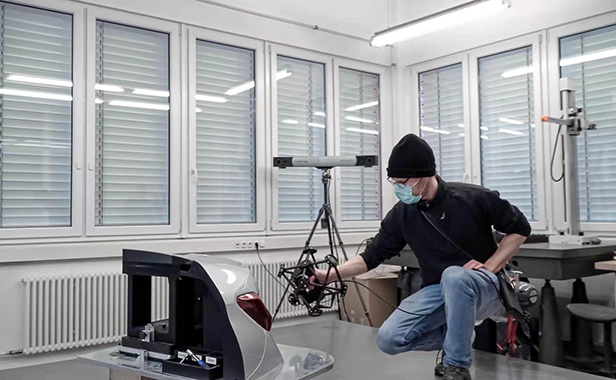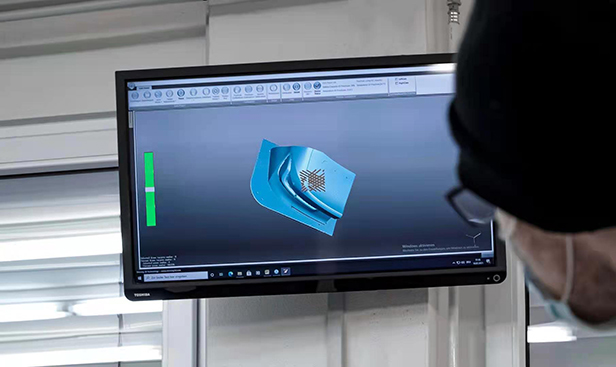 FreeScan Trak CMM system – the reliable 3D measurement solution for industrial applications
Due to the compact structure of the hardware and the flexible handling of the tracker as well as the 3D scanner, a location-independent application is possible at any time. The wireless and lightweight scanner and the 3D scanning without reference points facilitate the pinpoint acquisition of complex structures immensely. Consistent scanning results make the FreeScan Trak system the reliable and accurate solution for demanding users in a wide range of industrial application scenarios:
Inspection
Initial part sampling Quality assurance Deformation analysis Component positioning and alignment
Reverse Engineering
3D Modeling Maintenance, repair and overhaul Tool and mold design Tool and fixture design
Open system for all mainstream inspection softwares
The compatibility of the measurement system with the inspection software greatly affects the scanning experience. That's why the Freetrak system is compatible with all major inspection softwares to provide users with the greatest level of flexibility and ease of use.
"We chose measurement hardware from SHINING 3D in conjunction with software from Verisurf, which we use to do the evaluation."
-Peter Michael Zieger, Managing Director, ATD GmbH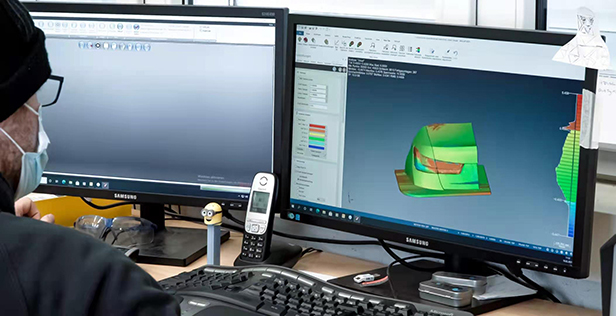 About SHINING 3D
Since its founding in 2004, SHINING 3D has pioneered independent research and development of 3D digitization, inspection and digital dentistry technologies; SHINING 3D holds over 300 patents and more than 100 copyrights in these fields. As one of the market leaders, SHINING 3D provides production-ready 3D products, advanced 3D digital technologies and comprehensive service to its global customers. SHINING 3D's mission is to improve the efficiency of working with 3D structures, enable flexible manufacturing technologies for very high performance, complex structures, and make 3D digitizing and 3D inspection technologies accessible to everyone.