On Aug.24, 2022, SHINING 3D Tech. Co., Ltd. (hereinafter referred to as "Shining 3D") has passed the audit of DET NORSKE VERITAS (hereinafter referred to as "DNV") one of the world's leading certification bodies. Shining 3D has been certified with ISO/IEC 27001:2013(GB/T 22080-2016)information security management system (ISMS), ISO/IEC 27701:2019 privacy information management system, ISO/IEC 27017:2015 ISMS for cloud services, and ISO/IEC 27018:2019 code of practice for protection of personally identifiable information (PII) in public clouds, by which Shining 3D is recognized as the first enterprise in 3d digitalization technology filed in China and worldwide to fully be accredited with the four certificates.
The award ceremony of the four ISO certificates was held in Shining 3D headquarters on Sep.21st, 2022 with the presence of Mr. Lan Jin, DNV General Manager of Business Development for Greater China, Ms. Wang Hui, DNV Key Account Management for Central Region of Greater China, together with Shining 3D's Board Chairman and Chief Executive Officer Mr. Li Tao, the senior executive team, and heads of relevant departments.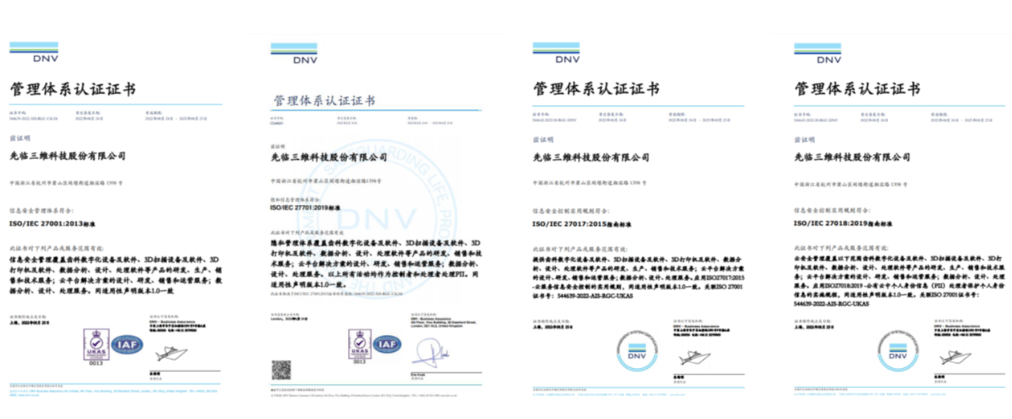 ISO/IEC 27001:2013
ISO/IEC 27001:2013 is the most widely used and typical ISMS. It uses a risk management-focused approach to manage the organization and customer information. The continuous operation of the management system is ensured by regular evaluation on the risks and effectiveness of control measures. The certificate obtained by Shining 3D represents a major breakthrough in the development of Shining 3D's information security management system, and also proves that Shining 3D has the ability to protect customers' information security with its products, technical services, and other related activities.
SO/IEC 27701:2019
ISO/IEC 27701:2019 is the most authoritative privacy protection standard worldwide. It aims to help organizations protect and process personal information collected. It allows organizations to efficiently implement compliance with regulatory requirements of Personal Information Law of the People's Republic of China, EU General Data Protection Regulation, and the data protection laws and regulations of other countries and regions where organizations offer goods and services. With this ISO certification, Shining 3D has been recognized for its ability in ensuring data security and protecting user privacy, which is of great significance to further improve the company's security system construction.
ISO/IEC27017:2015
Cloud services are different from ordinary IT services/systems. ISO/IEC27017:2015 is an international standard for cloud computing information security. Based on the ISO/IEC 27002, ISO/IEC 27017 provides code of practice that specifically relates to cloud services and provides additional controls to address cloud-specific information security threats and risks. The certification of ISO/IEC27017:2015 implies that Shining 3D's capability in security management of cloud computing information has been internationally recognized.
ISO/IEC 27018:2019
ISO/IEC 27018:2019 is intended to protect personal data in a cloud computing environment. It establishes commonly accepted control objectives, controls, and guidelines for implementing measures to protect Personally Identifiable Information (PII). It is the most authoritative, strict, and widely accepted and applied information security system certification. By getting this certificate, Shining 3D has proven to have a complete protection and management system for personal data and has reached a high standard in protecting enterprise data and securing users' privacy.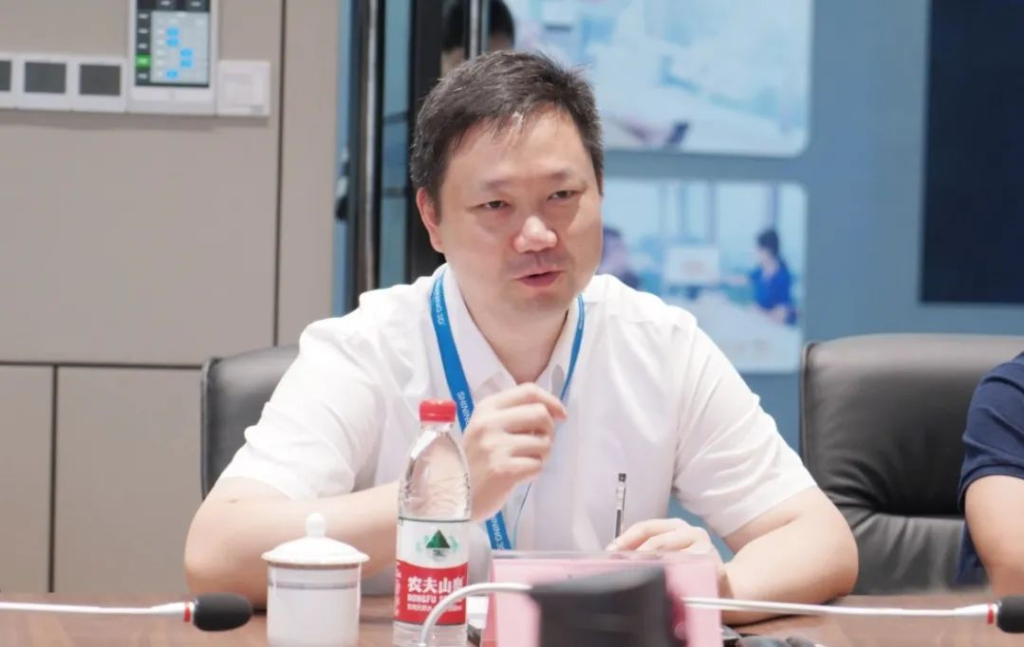 Mr. Li Tao, the Chairman and CEO of Shining 3D, made a speech and extended gratitude to all the personnel involved in this certification project. In the speech Mr. Li Tao pointed out that information security management is a daily work in the whole life cycle of an enterprise. For Shining 3D, a digital technology provider, it's vital to ensure information security and protect users' privacy so that Shining 3D can achieve business continuity. Shining 3D strives to fully implement relevant regulations, not only to meet the basic requirements of the laws, but also to fulfill its social responsibilities, live up to its mission, and fulfill the commitments that Shining 3D made to all relevant parties.
The acquiring of the four certifications on ISMS is an acknowledgement of the efforts that Shining 3D has done for user information security and privacy protection management, representing a milestone and a new starting point for Shining 3D on the progress of information security management. Shining 3D will continue to improve the management level of information security in a steady and quick way and lead the high-precision 3D digitalization industry to a safer and sustainable future.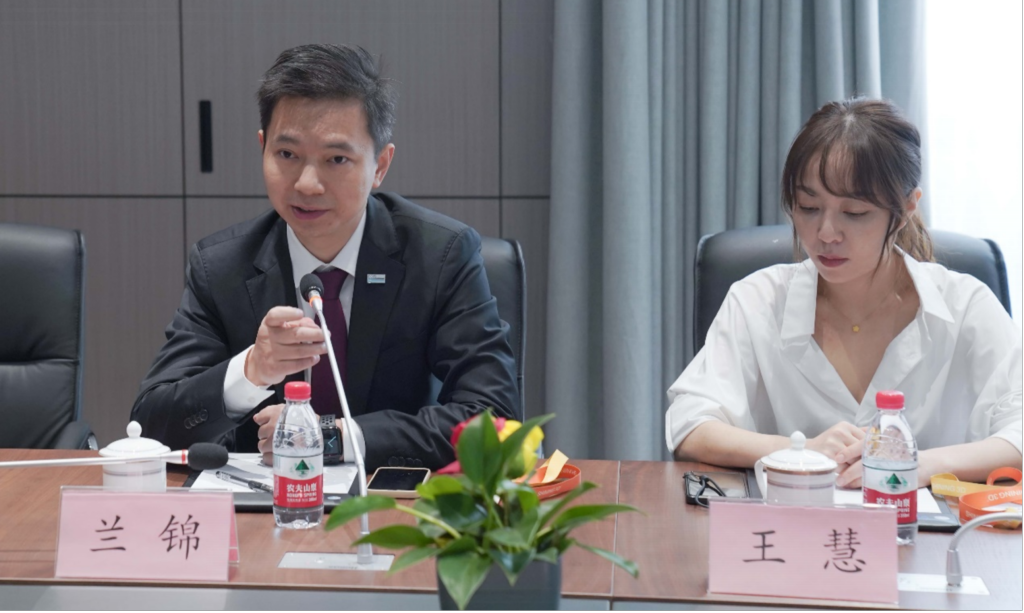 Mr. Lan Jin, DNV General Manager of Business Development for Greater China, emphasized that information security and privacy protection in the age of big data have become the focus of attention of the government and the public in recent years. The supervision on network information security and data privacy compliance is getting stricter for major markets and related industries. For example, China has already promulgated a series of laws and regulations related to network information security. All sectors of society have put forward higher requirements for enterprises to make information management more standardized and systematic.
In this trend, acquiring of the four ISMS certifications is proof that Shining 3D attaches great importance to data security and personal information protection, and strictly abides by the relevant legal and regulatory requirements and international standards. It has been attested that Shining 3D has reached the international advanced level in information security management and privacy protection.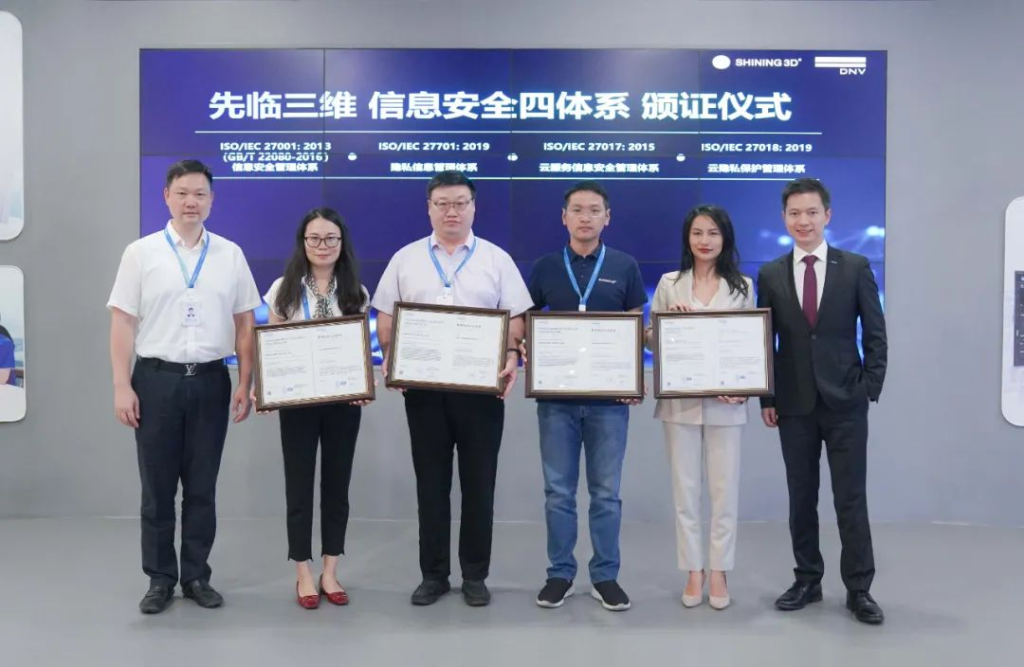 Shining 3D has been devoted to the R&D and application of high-precision 3D digitalization software and hardware for more than 18 years. Being committed to becoming a globally influential enterprise, Shining 3D aims to promote the popularization of high-precision 3D digitalization applications. As an innovative tech enterprise, Shining 3D holds nearly 300 authorized patents and more than 100 software copyrights and has independently developed several core technologies which are fully used in dental 3D digitization and professional 3D scanning (3D data modeling and 3D metrology). Shining 3D products have been sold to more than 150 countries and regions in the world, with overseas business accounting for more than 50%.
All the products and services that Shining 3D provides are certified by the four ISO ISMS standards. In future, Shining 3D will continue to follow the requirements of ISMS certification, optimize the management of information security and privacy security, and further provide users with more professional, safer, and more reliable products and services.
About DNV
DNV is one of the world's leading certification bodies delivering management services. Since it was founded in 1864, DNV has become a technology-oriented transnational service provider. DNV is leading in certification fields of information security, cloud security, and personal data privacy protection in China. DNV is recognized by UKAS and CNAS for ISO/IEC 27001 certification and is recognized by itSMF/UKAS for certification of information technology service management systems.