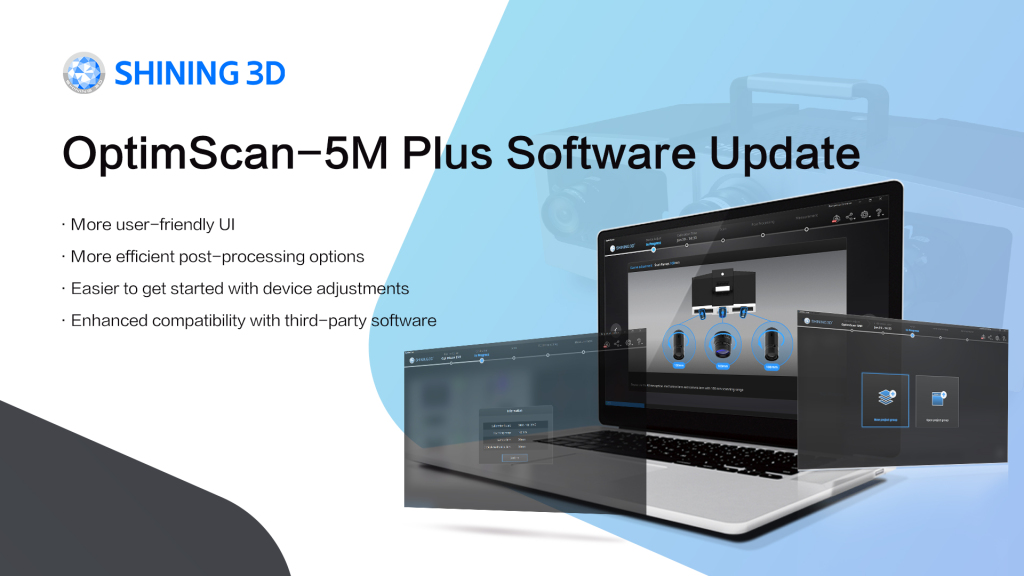 We are pleased to announce a major update to the software and features of the OptimScan-5M Plus metrology 3D scanner.
This blue light 3D scanner is highly appreciated by users for its unparalleled industrial grade accuracy and powerful detail presentation capabilities. We have been actively listening to our users and looking forward to enhancing the experience of industrial users. It has been developed for many years thanks to the efforts of our R&D department. Recently, we have brought you its update!
This update brings several improvements, including:
● Improved user interface for a more user-friendly experience
● Expanded post-processing options to increase your efficiency
● Simplified device adjustments to make it easier to get started
● Enhanced compatibility with third-party software
We are confident that these updates will enhance your scanning experience and enable you to achieve greater accuracy and efficiency in your 3D scanning tasks.
Key Features of the OptimScan-5M Plus Update
Enhanced User Interface (UI)
With this update, OptimScan-5M Plus finally has a UI software interface that is consistent with the UI design of other metrology products under the SHINING 3D brand! The new interface, along with smoother navigation, streamlined workflow and easier access to key features, ensures that you can easily operate the scanner and feel our usual intuitive and user-friendly software experience.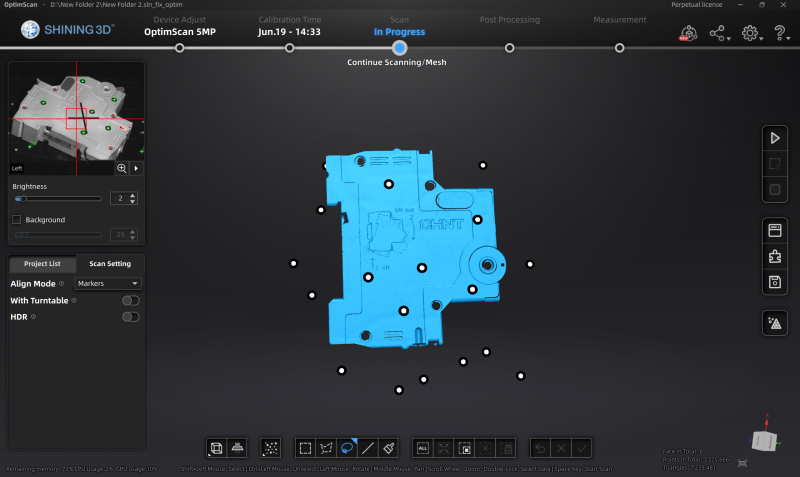 Cutting Plane Function
We have introduced a cut plane feature that allows you to remove base data, thereby reducing the amount of irrelevant data and making post-processing easier. This feature is also used in other SHINING 3D metrology-grade products and has been widely appreciated by users.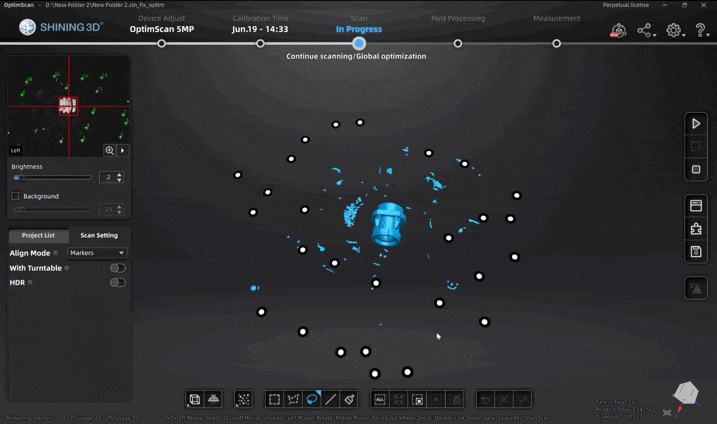 High Dynamic Range (HDR) Mode
HDR mode enhances the scanning power of the OptimScan-5M Plus by increasing the contrast and making some of the details shine more prominently so you can get more accurate and realistic scanning results.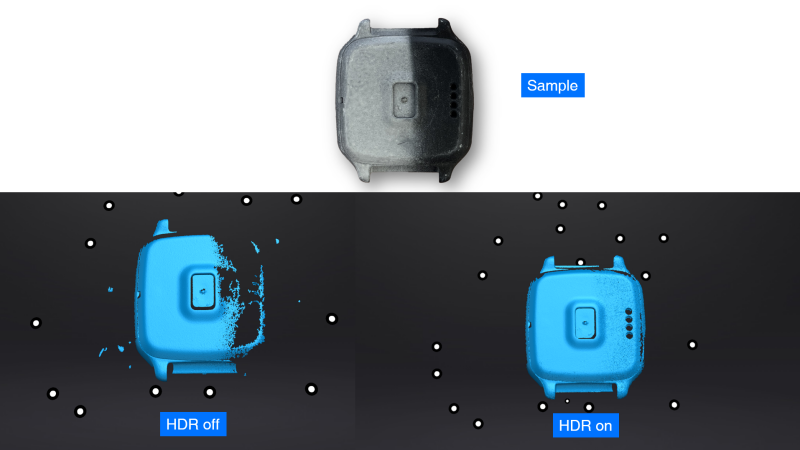 Expanded Post-Processing Options
With this update, we have expanded the post-processing options available within the software. You now have more tools and settings that allow you to refine and optimize your 3D scans to your specific requirements. These additional post-processing capabilities allow you to achieve higher quality output and integrate seamlessly with your downstream workflow to increase productivity.

User-Friendly Device Adjustment
We have implemented improvements to the device adjustment process, making it more user-friendly and efficient. Adjusting the scanner allows you to save time and effort while ensuring accurate and reliable results.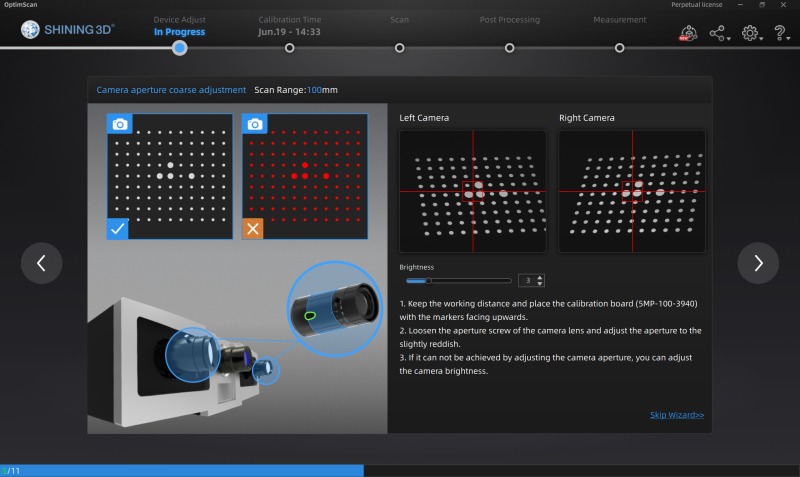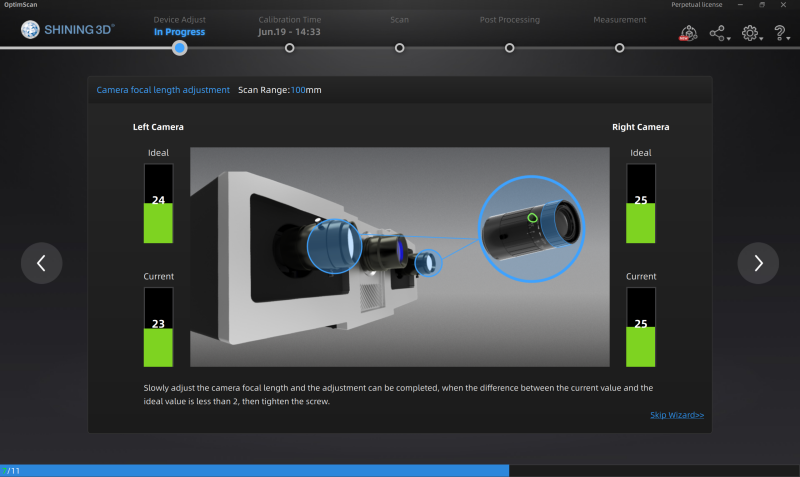 Enhanced Third-Party Software Compatibility
The OptimScan-5M Plus update enables seamless import/export functionality with a variety of third-party software applications, including Control X, Design X, Geomagic Essencials, Solid Edge and Verisurf. This expanded compatibility provides greater flexibility in integrating your 3D scans into your preferred software ecosystem, ensuring smooth interoperability with your existing workflows.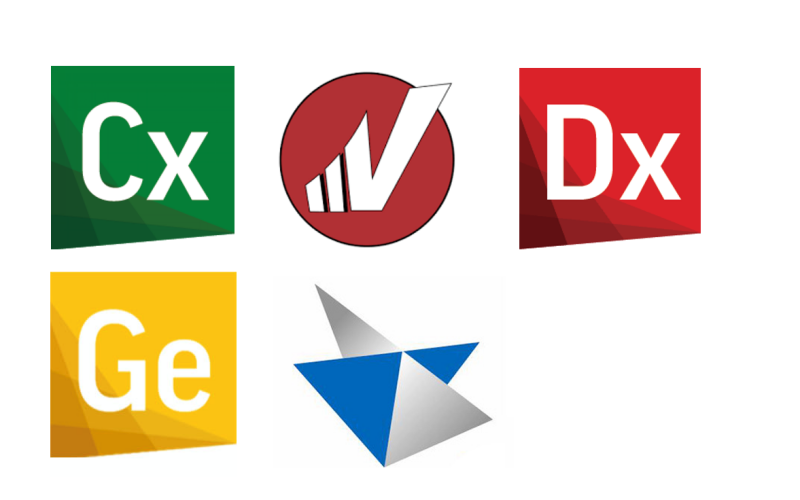 We believe that these updates will elevate your scanning capabilities and enable you to accomplish more with the OptimScan-5M Plus Metrology 3D Scanner. We are committed to continually improving our products and providing you with the best user experience possible.
To access the latest update and take advantage of these new features, please visit our website and navigate to the Downloads section. Detailed instructions on the installation process and utilization of the new features can be found in the accompanying user manual.
In the meantime, we have prepared a series of videos on the operation of OptimScan 5M Plus, the first issue has been sent out, please follow our YouTube channel for updates.
We value your feedback and suggestions. If you have any questions, concerns, or require assistance, please do not hesitate to reach out to our dedicated support team. We are here to ensure your continued success with the OptimScan-5M Plus.
Thank you for choosing OptimScan-5M Plus Metrology 3D Scanner. We look forward to serving you with our enhanced capabilities.