Today is a big day!
SHINING 3D Dental team is launching a worldwide Aoralscan3 scan speed competition starting from  July 20th to August 20th!
Come join us and discover more potency of the Aoralscan 3 by posting your scan video on social media (Facebook, Instagram, LinkedIn). We can't wait to see your scanning speed and techniques!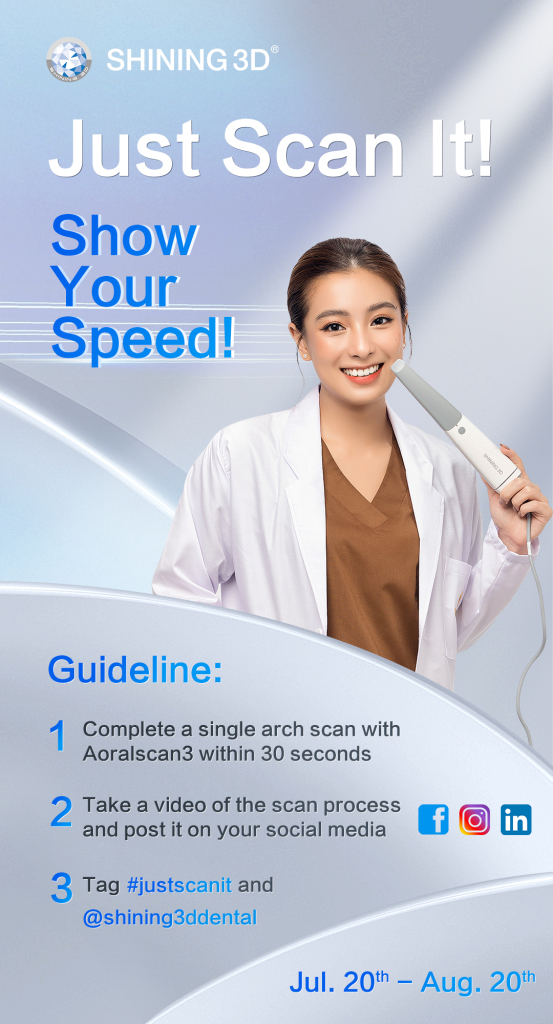 How to join the competition?
‒ From July 20th to August 20th complete a single arch scan with Aoralscan3 within 30 seconds
‒ Take a video of the scan process, scan data and count the time.
‒ Post the video on your social media , and add the tag #justscanit and don't forget to add @shining3ddental so we can find your post!
Click the link to watch the Aoralscan3 scan speed competition demo: https://www.youtube.com/shorts/Dyi4DXQDPuQ
What's the prize and rewards?
● Participation Prize: $5 Starbucks gift card for EVERY participants who post the scan video on social media with tags.
● Technical Prize: The TOP 20 fastest scan post with good data quality will receive a $50 Starbucks gift card.
● Popularity Prize: The TOP 3 participantes with the most likes on their social media posts will receive a $300, $200 and $100 Starbucks gift card.
Grab your Aoralscan 3, scan, post,  #justscanit and @shining3ddental!We will see you there!
Sincerely yours,
SHINING3D DENTAL TEAM