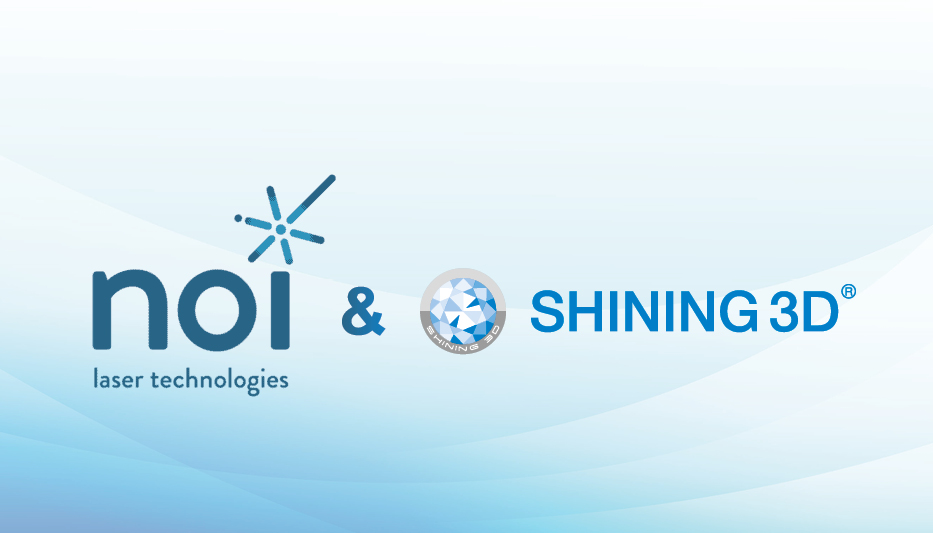 San Francisco, USA, July 2020 – SHINING 3D, the whole solution provider from 3D-Scanning, through Intelligent Design to Additive Manufacturing has teamed up with NOI Industrial Laser Solutions to bring the latest accessible Industrial 3D Scanning technology to professionals in Canada.
Northern Optotronics Inc is a Canadian business focused on providing the solutions and quality of service that all customers require and deserve. Geoff Miller, Partner and VP commented – "NOI was established in 1997 with the one goal that is still the foundation that drives our people and actions. That goal is to provide the best solutions, products, and service available in Canada. Our partnership with Shining3D allows us to maintain our commitment to customer-driven priorities, providing cost-effective technologies, and the success of our customers."
" With NOI Inc we found a skilled and reliable cooperation partner with profound experience in the industrial and metrology sector. We look forward to deliver excellent products and services together to all the industrial audience throughout Canada."
– Kevin Crittenden, SHINING 3D Metrology Account Manager
Northern Optotronics Inc.
Headquartered in Ontario, Northern Optotronics Inc. is a 24 year old national company and Canada's leading multi-vendor sales and service provider of medical and industrial laser solutions. For more information on NOI, visit www.noi.ca
SHINING 3D, founded in 2004, is pioneering independent research and the development of 3D digitizing and additive manufacturing technologies. SHINING 3D is well-positioned in the market and has the capacity to manufacture 3D products at a large scale, offer powerful 3D digital technologies, and provide strong support service worldwide. SHINING 3D's mission is to improve the efficiency of high-quality 3D modeling, to enable flexible production of high performance, complex structure parts, and to make 3D digitizing and additive manufacturing technologies accessible to all; from large multi-national corporations worldwide to at home hobbyist. Providing solutions covering "3D Digitizing – Intelligent Design –Additive Manufacturing" for industrial manufacturing, healthcare & life science, product customization and education, etc. SHINING 3D promotes the 3D digital solution at a large scale by offering from end-to-end, easy-to-use and cost-effective products. SHINING 3D has demonstrated a strong international influence with customers in more than 70 countries in Asia Pacific, North America, South America, Europe, Middle East and Africa.